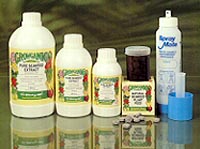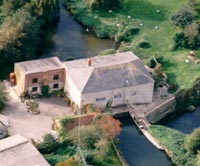 Littleton Mill
Original Home of
Growganic, Ltd.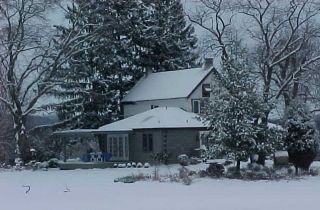 Tuckhollow Herbs
North American Home of Growganic, Ltd.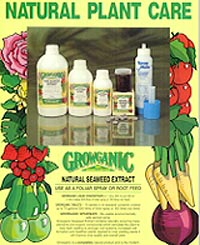 Growganic Seaweed Extract, the 100% organic fertilizer, contains naturally occurring trace elements and organic compounds which stimulate the plant to help itself; leading to stronger root systems, increased cell formation and healthier plants. Growganic is a completely natural high quality concentrated freeze dried product from the cold, clear waters of the North Sea, in convenient and safe tablet or liquid form. Growganic is the economical, modern, environmentally safe approach to plant care indoors and in the garden. Use for foliar or root feeding.

Growganic Tablets are available in a re-sealable container of 70 tablets which makes 70 gallons (Imperial) / 300 liters of foliar spray or 100 liters of root feeding liquid.

Growganic, Ltd was set up in 1989 to supply organic plant feed in the form of natural Seaweed Extract in both liquid and tablets. In 1992 we expanded and opened our distributorship in North America.

Growganic tablets are available in North America directly from us at $10.95 (USD) a box plus postage.

For a free sample packet, send a self addressed stamped envelope to the address below.

Growganic Liquid concentrate is available in North America by Special Order Only, in 20 liter, 5 liter, 1 liter, 500ml and 250ml bottles ( 1 liter makes 300 liters foliar spray or 100 liters root feed). Please contact us for shipping details and pricing.
In North America
Growganic, Ltd. N.A.
Tuckhollow Herbs
105 Stockington Road
Woodstown, NJ 08098
Tel: 856-769-1064
Fax: 856-769-3810
Email: info@growganic.com

In UK and E.U.
Growganic, Ltd.
Woodlands
1 High Street
Littleton Panell
Devizes
Wilts SN10 4EL
tel 01380 818185
Fax:
Email: office@growganic.co.uk
VISIT OUR EUROPEAN SITE
FOR FRENCH & GERMAN TRANSLATIONS
www.growganic.co.uk